Virtual address and mail forwarding
10 Proven Ways to Build a Successful Startup
Startups require talented founders and a fantastic concept. Of course, it's always easier when a fantastic idea is backed up by funds and executed flawlessly. Finding a product that fits a new business's market, or vice versa can be tough. This is frequently the reason why entrepreneurs fail to realize their vision. Many people assume that if they are passionate enough about their business, they will be able to achieve their goals. A business, like any other employment, will not succeed just due to desire and hard work; it also demands expertise. To implement your plan and develop a business to new heights, you'll need a good idea, enthusiasm, dedication, and a well-planned approach.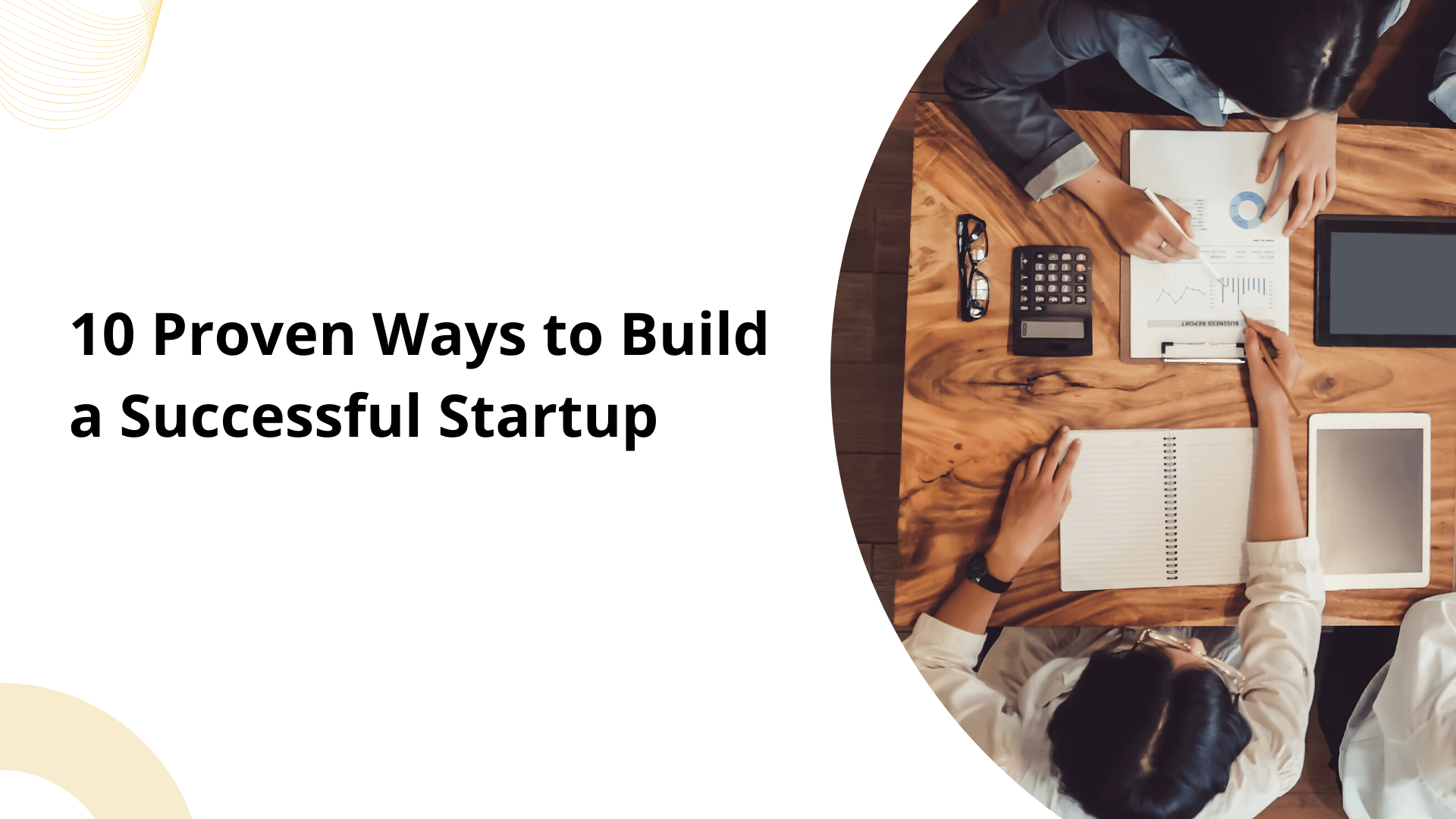 Steps to Building a Successful Startup
When you consider starting a business from the ground up, you are already under a lot of stress. However, applying pressure will not help you. For many people, the answer may differ. However, strategic planning is something that all of them have in common. The following are the most important tips for starting a successful business.
Create a business plan
A business plan is a complete road map for the growth and development of your small firm. It explains who you are, what you want to achieve, and how you plan to do it. It also helps with talent and investor recruitment. Because most venture capitalists (VCs) and all banking institutions will not invest in a startup or small firm without a well-written business plan, you'll need one. A business plan not only helps you focus on precise goals but also assures other parties that you've planned ahead. Begin by drawing a clear picture of the target audience for your strategy. Is this a room packed with angel investors? The venture capital division of your local bank? Is it you, your leaders, and your team? To compress crucial ideas from the other nine sections, write your executive summary last. Leave it as is for the time being. Finding other organizations that sell in the market you want to enter is the first step in conducting competitive research. Setting aside enough time to research every possible competition may seem daunting, but it may be highly beneficial. You probably identified your specific business and personal goals when you first prepared your business strategy. Now is the moment to see if you've met your goals.
Hire Wisely
While huge organizations spend a lot of money on third-party recruiting services and fancy technologies to fill job openings, good hiring is still about the nuts and bolts, which any small business owner can use. Your search may be ended if a current employee possesses all of the requisite talents and other characteristics. If not, you'll need to get someone from outside who can jump right in. You want people who can do the job right now, not people who can grow into the position. Finding someone who has done it before in a company similar to yours is the best approach to do it.
Set Goals
Some people may find it difficult to stick to their goals because they don't distinguish them from more casual, everyday self-improvement efforts. It's not a purposeful goal to start running every day just because you decide to do so. So, let's go over goal setting once more. The most important part of SMART goal setting is making your goal specific so that you can track your progress and assess whether you met your goal. The more specific your aim is, the more provisualize bable it is to be realized. As part of your action plan, use a timelinein visualizing to assist roles, activities, milestones, and deadlines for reaching your goal. Once you've set those dates, make every effort to keep to them.
Develop Niche
You want to start a company, but the market niche you know you need to choose is preventing you from doing so. To be honest, even if you list all of your hobbies and loves, you'll still feel as if you haven't found the one thing you were born to do. When it comes to choosing a viable niche business, you should undoubtedly do your homework, but it's better to get started than to wait. This allows you to test new ideas, enter the market faster, and learn from your successes and failures. That way, if your first business fails, you can always use what you've learned from earlier attempts to start something new.
Nurture Customer Relationship
One of the most crucial strategies is to put a lot of work into maintaining customer relationships. Need a definition of customer nurturing in a hurry? It all comes down to putting their needs ahead of your own and establishing trust that will help you maintain your relationship with them in the future. Maintaining long-term customer relationships will help you stay in business longer. Your clients, no matter what industry you're in, are what propel your company forward. You won't be able to keep your doors open for very long without them. Building customer relationships is vital because it boosts employee morale, increases revenue, and turns customers into your R&D department.
Networking
The informal social exchange of information and ideas among people who share a common profession or special interest is known as networking. The most common starting point for networking is a single piece of common ground. Professionals use networking to broaden their circles of acquaintances, learn about career prospects in their areas, and gain a better understanding of current events and trends in their fields and the larger world. Professionals utilize networking to broaden their circle of connections, learn about professional opportunities, and keep up with news and developments in their fields Business owners can use networking to form relationships with people and companies with whom they may do business in the future..
People can interact with other professionals, join organizations, write blogs, and share information on professional networking platforms.
Find like-minded people, find support
The internet makes it simple to connect with people who share similar interests, whether you're establishing a new business or not. Making new friends can help you get more out of life. You'll have a broader support network that will understand your struggles and triumphs. Furthermore, if you want to expand your firm, you must discover people that share your ambitions and aspirations. It can also mean staying in shape or eating well; being surrounded by others who want to do the same thing is a terrific incentive.
Find a big market
Calculating the size of a market and the potential value that the market holds for a beginning business is one of the most important responsibilities an entrepreneur has. You can't write a viable business plan or be considered seriously when addressing possible investors until you have this information. Determine the penetration potential of your target market using your target market. To calculate the market size, multiply the target market by the penetration rate. The size of the market must be determined. It informs you, your partners, staff, and investors about the amount of potential business that exists. It assists in determining the true value of your particular venture. Even if you never aim to raise any outside funds, you should be aware of this.
Focus on the customer
Improving your customer focus begins with a better grasp of what it entails and the development of a successful customer focus plan. Customers have more expectations than ever before, and they are evaluating your firm more than ever. They're comparing your brand's experience to the easy, rapid, and personalized experiences they've had with the best of the best. And it is these customer-centric companies that profit from increased loyalty and competitive advantage. While customer service capabilities are important, customer-focused businesses demonstrate that the customer experience is important throughout the organization and at every stage of the customer journey. Customer focus is the lens through which you examine all of your customer interactions. Customer focus is the cornerstone of customer loyalty because it is your promise to your customers that you will put them first. Furthermore, nearly half of customers indicate that after just one unpleasant experience, they would switch to a competitor. When there are multiple negative experiences, that number rises to 80%. Making the shift to a customer-centric company is crucial for ensuring that customers are satisfied with your brand. This is because they must be the driving force behind all you accomplish.
Create a great experience
Customer experience will be a big concern for businesses over the next five years, and the reason is simple: organizations that prioritize customer experience reduce attrition and increase sales, resulting in higher profitability! Customer service and customer experience are seemingly synonymous terms for many people. One is a single point of contact with a brand, whereas the other affects feelings and emotions throughout the customer journey. The contacts and experiences your client has with your business along the whole customer journey, from first contact to becoming a happy and loyal customer, are defined by customer experience (also known as CX). The customer experience (CX) is an important aspect of customer relationship management (CRM), since a happy customer is a loyal customer. Companies are focusing on how to gain new business and, perhaps more crucially, how to maintain existing clients because a business cannot exist without its customers.
Conclusion
Founders who wish to be successful must be able to adapt to changing circumstances, keep a healthy balance, and surround themselves with the right people. Even if you use these ten tactics, there are no guarantees of success. It is important to connect with a team of experts who can guide you and mentor you through this process.