Virtual address and mail forwarding
Eqvista vs Carta – Top Equity Management Platforms in the Market
Planning to raise funding for your company or give out employee stock options to your staff? Then you should know that you will need a good equity management software to help keep track and manage the shares in your company. And with more complex ownership structures comes more complications with tracking all the details of the shares in your company.
But everything can be handled well with the right cap table management software. In fact, a good equity management software will streamline the equity management process. The core features of the right application should include handling and tracking equity issuance processes, managing capitalization tables, securing 409A valuations and ensuring company compliance.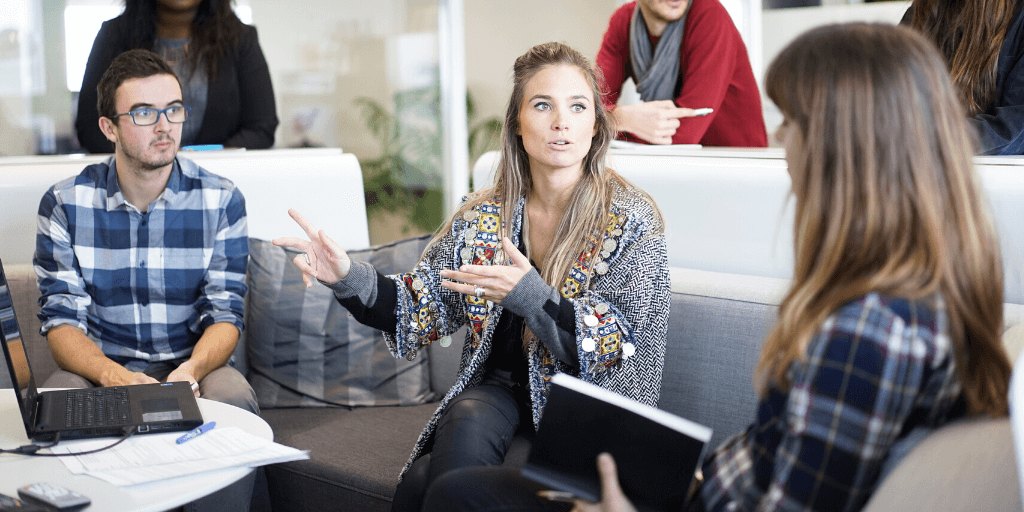 The tool needs to be able to act as a central hub for activities that are relevant to equity while eliminating the need for legal professionals every time a company issues equity. These solutions also help drive investment and expand the decision-making process by offering management a solid understanding of their cap table at any given point in time. Basically, for an equity management software to be considered the best, it has to:
Allow equity issuance and governance
Track important equity details
Model potential growth and exit scenarios
Provide additional key cap table features
There are two cap table apps that come to mind in the market, namely, Eqvista and Carta. Let's take a look at what both have to offer.
Eqvista vs Carta
Choosing an equity management tool is not as easy as you think. It has to have all the needed features and not be heavy on your wallet. The overall requirement is that it should meet best practices in four key areas: accuracy, security, efficiency, and comprehensiveness.
The right tool will have to come up with accurate information that can be derived from equally accurate calculations. Failure to do so could create trouble for your company, and will not just affect your relationships with those offered equity, but also create compliance issues for your business.
The next thing you need to consider is the security features. Are you sure that the software offers the best of security? Are they keeping things confidential for you? Do you interact with a team or some members of the software company's team? Along with this, a good solution will not only provide data security but accessibility as well.
And then there is the question of efficiency. Is the system known for being able to handle any aspect of equity management? It also should have the required automation features to make light work of tedious tasks. It wouldn't hurt also if data in your equity management software can work with your HR software, where most of the employee data resides.
Finally, the ideal system is one that is highly comprehensive and offers a lot of functionalities that make sure the equity management in your company is as smooth as possible. These may include record keeping, share valuation, scheduling vesting dates and share pricing. The software should be able to help you along the way so that you can become successful in your journey. When all these qualities come together, you get the best equity management and cap table software.
With these ideas in mind, there are two leading equity management apps in the market, Carta and Eqvista. But how to choose between them? The following will give you an introduction to each, helping you understand what each of them has to offer.
Overview of Eqvista
Combining unique technology, streamlined work processes, and the development of a share management platform, Eqvista has been able to develop a cloud-based captable management platform offering various functionality for individuals and professionals dealing with primary or secondary shares transactions. Eqvista also supports convertible notes such as KISS (Keep it simple security), SAFE (simple agreement for future equity), and other note types. Eqvista has implemented all-important financial tools such as waterfall analysis, round modeling, and other tools to get your company on the right track. In short, it is a one-stop tool for all your equity needs.
Here are the main features of Eqvista:
Electronic and digital shares recording
Cloud-based Cap Table Management
Deal Management
Document Storage
Robust support
Financial Modeling
Options Management
Participant Portal
Certificates management
Portfolio Management
Compliance management
Private Equity
Public Equity
Valuation Management
Vesting Management
Eqvista runs on any web browser and devices running on Android and iOS, making it accessible anytime, anywhere. And the best thing about this application in comparison to any other in the market is that it is FREE to use for smaller companies. When your company grows and has over 20 shareholders, that is when you will have to sign up for the premium plan. But before that, you can easily use the application and enjoy the various premium benefits that are offered.
Overview of Carta
Carta has been the leader on the market since they took over the position from Solium recently acquired by Morgan Stanley. The company focuses on larger entities and pre/post-IPO companies. They provide excellent and comprehensive products for companies willing to spend more money on cap table compliance. Their services have expanded to include 409a valuations, ASC 820 valuations, fund administration, and many more. It comes with all the needed tools to help you handle request valuations, track investments, manage cap tables and equity incentive plans. This robust piece of software also helps you manage projects, documents, processes, and boards.
Here are the features of Carta:
Advanced Cap Table Management
Shareholders & Employee Equity Management
Electronic Issuance of Shares
Built-in Compliance Features
409A Valuations
Form 3921, ASC 718, and Rule 701 management
Portal for Employee exercises
Private & Public Equity
Download PDF share certificate
Advance Vesting System
Scenario modeling tool
Payout and Dilution modeling
Streamline tender offers & option exercising
Additionally, Carta is known for its ease-of-use, and simplifying a lot of tasks such as 409 valuations, stock option compensation expense management, financial reporting, and equity issuance/tracking. Carta runs on any web browser and devices running on Android and iOS, making it accessible anytime, anywhere.
Why choose Eqvista over Carta?
From the above, it is clear that both Carta and Eqvista have the needed features of a great equity management application. But if you look clearly, there are slight differences.
First off, Eqvista offers a free subscription, where Carta does not. Purchasing an equity management tool is one thing, but spending a lot of money just to manage your company's cap table is another thing. In fact, the first thing that you need to do for using Carta is subscribe. And when it comes to Eqvista, your initial subscription is FREE of cost. You can easily set up your company profile for free on the platform and enjoy all the benefits just like a premium user would. In fact, you can create as many company profiles as you want for free on the app. The FREE plan works for up to 20 shareholders. When the number of shareholders becomes more than 20 in one company, you will have to sign up for the premium plan.
Along with this, Eqvista doesn't just help with your equity management, it helps you right from the beginning of your company. This means that if you have a business idea, you can contact the team at Eqvista and have your company registered in the US for a low price. Once your company has been incorporated, you can then begin using the application to manage the shares in your company.
Once you have your company in place, the software helps you in handling all the transactions from the seed to pre-IPO stage. All this would be taken care of electronically. This means that you would not have to spend time and money on additional paperwork.
Benefits & Features of Eqvista
There is a lot that Eqvista has to offer you, including:
Cap table management along with records and filing management
Direct communication link between issuer and investor
Reduction in manual work & reduced time spent on data entry work
No need to rely on 3rd party database
Cap table management will show clear provenance record
Manage your shareholders and keep an eye on their transactions made online
Corporate actions like stock authorizations and share transfers
Vesting plans calculated in an accurate way through the software
Have your company filed with your state's Division of Corporations (USA Only)
Issuing of shares will be done electronically and managed by Eqvista in a transparent manner
Have defensible 409A valuations prepared by the industry's best analysts
Share partial or complete information of the cap table online with shareholders and others
Make smarter decisions with the waterfall and round modeling analysis done on Eqvista for future investments
Everything happens in real-time
It is FREE to set up your company on Eqvista
Additional Benefits of Eqvista
There is a lot more to Eqvista than just those features mentioned above. Other than cap table management, you can easily learn a lot about being a shareholder or a founder through the huge range of training resources available online. Access the support articles to help you understand how to use the application and the knowledge center to learn all about the various shares, laws that guide them and what can make you a better founder/shareholder in the company.
Here is the list of training resources that you can use:
Online Videos: From the initial inception to the various updates that come out, there are online videos shared so that you can easily understand all about the software and its use. Check the latest videos here!
One-to-one Training: Contact the team of Eqvista via any remote desktop to have your difficulties and problems solved.
Online Support: There is an online support system always there to answer your questions and guide you through how to use the software.
Support Articles: If you want to get a physical demonstration of how to go through the application in a stepwise format, the support articles can help you. Check them out here!
Knowledge-Based Articles: To learn more about equity management and how to be a great founder, there are knowledge-based articles available for you. Check them out here!
Eqvista – Preparing for the future
To help you stay ahead of things, here is what Eqvista is working on to improve the application. Some of the features would be available on the application soon, including:
Board resolution (DocuSign API implementation)
Easy shareholders onboarding – excel format API (suitable for 50+ shareholders onboarding)
LLC company types
Stock Option Expensing (ASC 718)
Rule 701
ISO $100k limits
83(b) election
Rule 144
Rule 3921 & 3922
ASC505
AMT Tax for ISO exercises
NSO tax (withholdings for employees)
Eqvista aims at creating the best experience for every entrepreneur. With an advanced team at hand, Eqvista checks on areas that can be improved and added to the app.
Easily Create Cap Table on Eqvista
You can create your company cap table on Eqvista without any hassle. Below are the steps:
Create Your Company Profile
Once you log in or register your Eqvista account, create your company profile by clicking "New Company" and you can add the company information as below:
Just add the company information like Company name, Company type, Incorporation date, Country of origin, and the currency.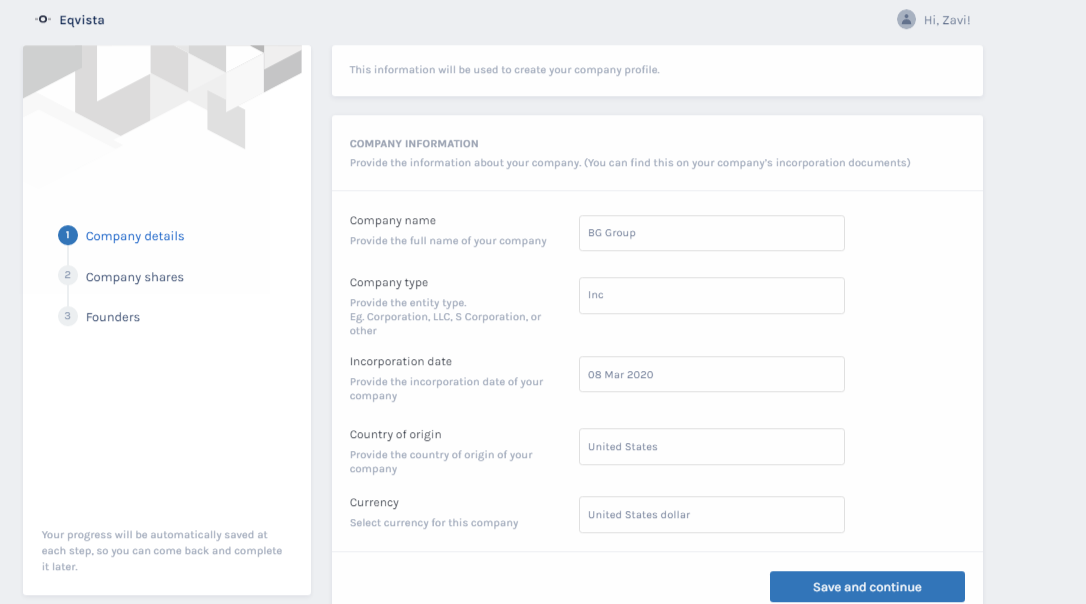 Once you add this, click "Save and Continue". On the next step add the "Total Shares Authorized" and "Par Value".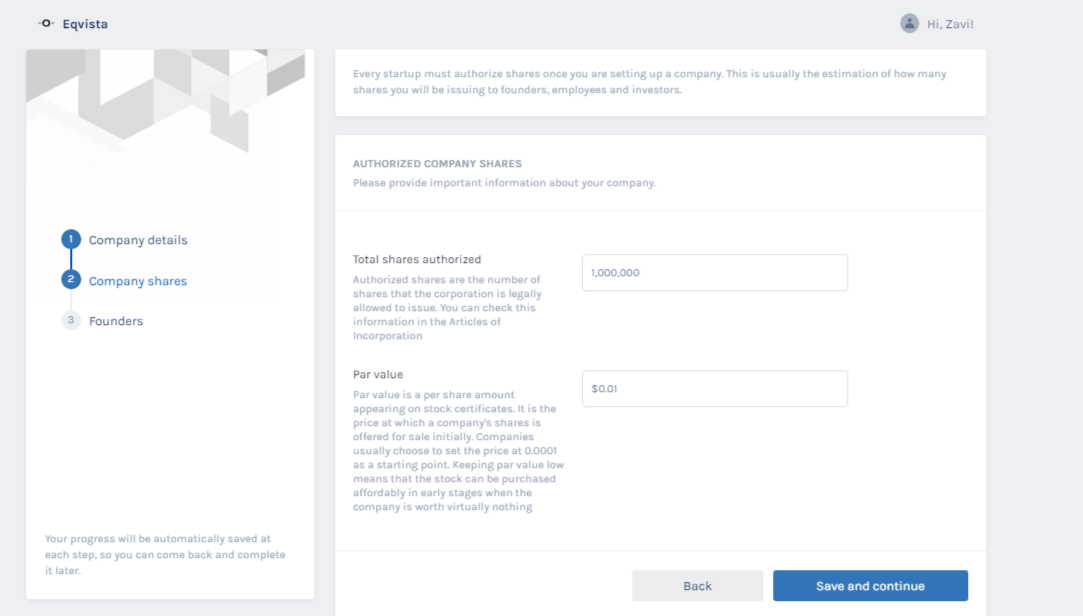 Then, click "Save and Continue" and on the next step add your founder information as below: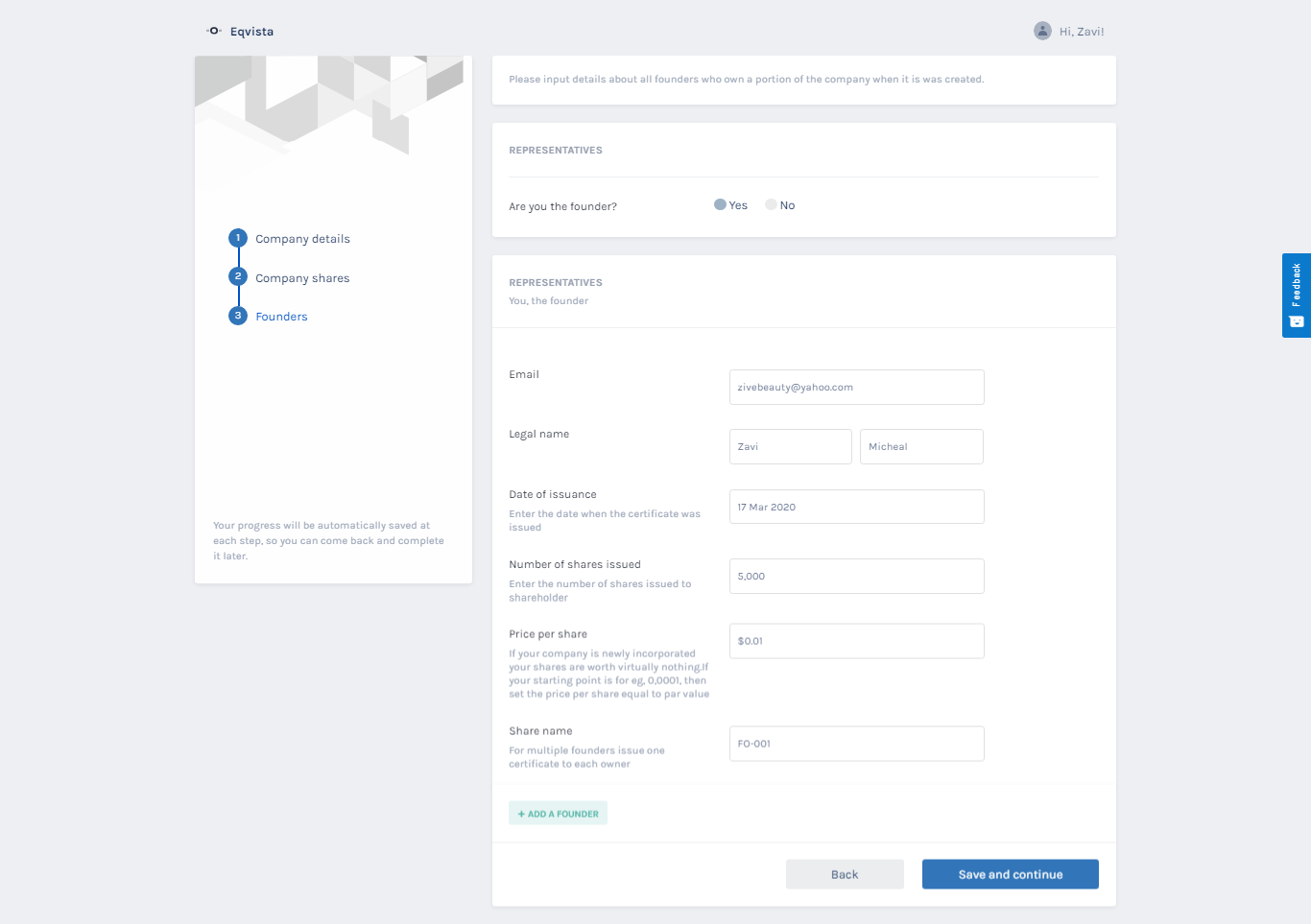 Once you finish adding your founder details, click on "Save and continue" and finally your "Company Dashboard" will be ready.
From the Dashboard you can click on the "Cap Table" button on the left side and see the "Detail Overview of Cap Table".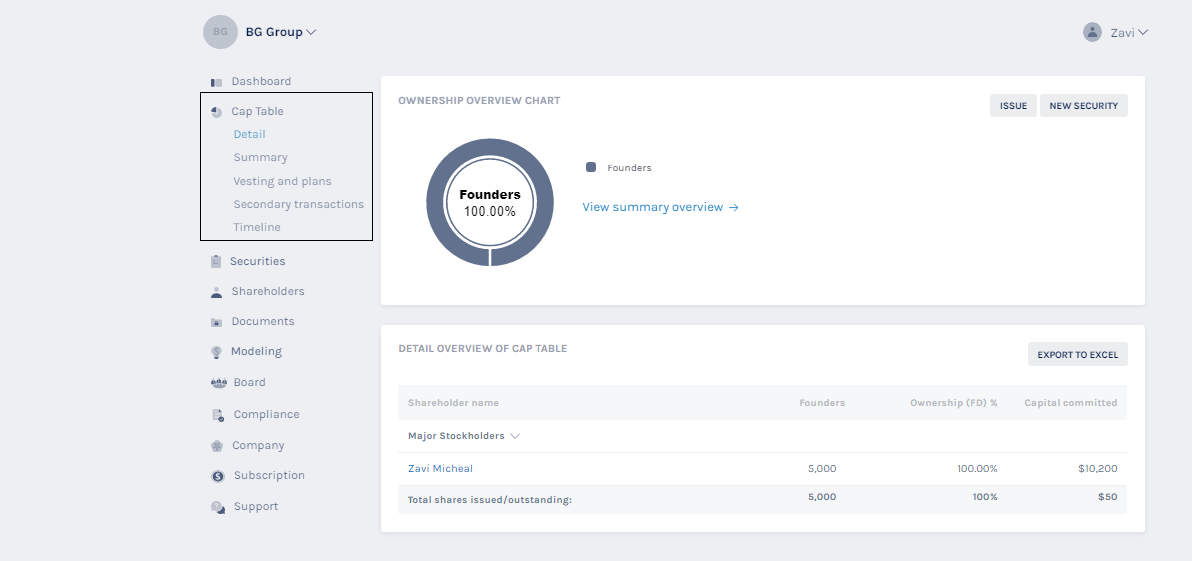 Now you can add more Shareholders to your company, issue shares to shareholders, issue options, warrants, and many others. Check the full support articles here to know how to do each function.
TRY EQVISTA NOW!
Eqvista will help with everything from your company's formation to the management of shares. The software and support system with help you run your company's equity smoothly. In fact, if you are not sure about how the equity management works , you can take the help of the guides and blogs available on Eqvista.
If you still have doubts, the team is always there to help you. So, have your company incorporated, issue electronic shares, manage the equity, stay compliant, and grow your business all on one platform – Eqvista. Sign up and contact them today.