Virtual address and mail forwarding
How do I get a Business Address for my startup?
Lots of small business owners, digital nomads, startups, solo entrepreneurs, and independent contractors, use their home address for their business. While starting a business in the U.S, using a home address as their business may be the right choice for you. Using the home address is quite simple and doesn't cost a cent. But this option doesn't work for every business owner.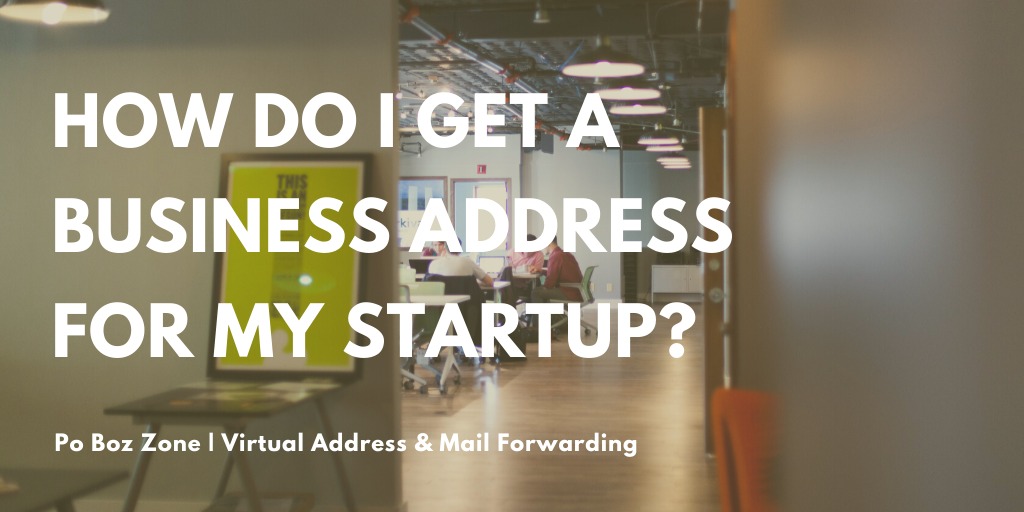 Do you want to know why? Because there are significant downsides, too, as compared to the advantages of using your home address for your business. Sometimes a better option is getting a virtual business address. It doesn't matter home address for the startups helps to save money, but what about the privacy and safety issues?
If you run a home-based business or are considering starting one up, you're likely pondering this question yourself. If you are in this situation, you must have thought about using the P.O. box number as the business address for your Startup.
Well, P.O. box paves a path to offer business mailing address to the business owners without sacrificing either your privacy or safety. But there are also a number of reasons why you may want—or need—to have an actual physical address for your business.
Why I need a business address for my Startup?
As mentioned above, there are numerous reasons for using the business address for your startup. If you are pondering whether you would require a physical address for your business, fortunately, there are several reasons for that without the added costs of leasing office space.
Trust and credibility
Do you want to have trust and credibility for your business among your clients and customers? Obviously, you will be working hard to have a professional image for your business so that you can attract more users. What do you think, how will you get it? By using home-address, obviously not! Look for other options!
Believe it, several clients steer away from those businesses which offer no contact address or only a P.O box number. For instance,- Being a buyer, you will also not trust those business owners who don't have any physical address for their startup.
There is always a dilemma, businesses without physical addresses get disappeared, once they are done with their aim. Whether you are opening a retail business, or eCommerce business, being able to present potential clients with a physical address at which they can contact, you may help your company build both trust and credibility.
While Operating LLC or Corporation
Are you thinking of setting up an LLC or Corporation? If yes, you must have a physical street address in the same state where your company is formed. LLC's and corporations need to have a registered agent, which helps to maintain the regular business hours and also receive official mail. Plus, you also want to have a separate address where mails of your business can be delivered. And that's here; you would require a physical business address for your startup.
Professional Image in the Market
When business owners use their home address for the contracts, invoices, or statements of work, they don't look professional in the eyes of their coworkers and customers. The clients would see an apartment or home address instead of your business address. After seeing that, they would not get any feeling of professional appearance or trust.
Because a business address always plays a huge and important role in building trust, more professional, a polished image with customers and prospects. That's why it is said that it is really important for the startup owners to get a physical address for their business.
Meeting Place for Clients
How do you want to meet your clients? For some business owners, it is certainly feasible to meet clients at their place or conduct meetings at the coffee shops. But if you have to invite a lot of clients in one place, then eventually you need to have your own place for holding client meetings. When you have a place to conduct the meetings with your clients, it will help your business build trust and credibility, as well as enhance your business's professional image.
Getting a Business Address for my Business
Fortunately, there is a wide range of options and ways available for getting a business address for the business. Even though all the options cost some amount of money, still these options are much less than the cost of renting physical office space.
Top Ways to get a business address for my Startup
When you set up the business as a limited liability company (LLC), limited partnership, or a limited liability partnership or even a corporation, you need to get a physical address for your business. To be more precise, the startup owners would require to get a registered agent address in the state wherever they want to register.
And a registered agent is someone who has been designated to receive your business-related papers, such as government documents and notices related to lawsuits (also known as "service of process"). And here PO Box Zone comes in the picture. We are located on a physical street address. Our employees can accept any letter on your behalf, even FedEx, UPS, DHL, and other courier packages that normal P.O. boxes cannot.
Let's get some information about top ways to get a business address for your startup-
P.O. Box
For some people, getting a P.O. box might be the best option to receive official mails. But if you want to operate LLC or corporation, you'll still need a street address for your Registered Agent.
Mailbox Through the UPS Store
The second way is getting mailbox through the UPS stores. In this way, you will actually get a physical address, not a P.O. Box. They can handle deliveries, send you notifications when you receive packages, and forward mail.
Address of a Co-Working Space
If you are a member of a co working space, you can use this place as your business address. Before choosing this place, you would need to check with the space on its rules for receiving mail.
Common Business Address Providers
Let's take a look at them and see which one may fit your needs the best.
Virtual Mailbox Services
The first and foremost option that you can opt to get a business address for your startup is virtual mailbox services. This option provides the business owners with a permanent business street address to receive emails. As soon as the mails are received, it will get scanned, and then the image will also get uploaded into the digital mailbox of the entrepreneurs. When the images get uploaded into the mailbox, you can view and request to have selected mail pieces opened, and the contents scanned.
On the contrary, you can also choose the mail forwarding facility. With this, mail can be forwarded to another address, which is useful if you receive your new credit cards, driver license, or passport. Through the virtual mailbox service, you can read and manage all the essential mails online from any part of the world.
Private Mailbox Stores
The second way is private mailbox stores. Generally, these stores are located in the plaza or retail centers which offers mailboxes attached to their store address. If you want to rent this type of mailbox, then you can get it from the UPS Store, PostNet, Postal Annex, or any locally owned mailbox rental company.
Virtual Office Space and Business Center
Being a workstation of the collaborative work environment, the virtual office and business center is the best place for the business owners. This place is a kind of departure from the traditional office scenario that can be leased, manned, and equipped. In a serviced business center, a virtual office is designed to create a professional image without the extra expense in managing the facility.
Plus, the virtual offices and business centers also provide the entrepreneurs with workspace solutions that include a commercial mailing address. If you want to make your startup or small-sized business appear larger and more established, you can rent the office spaces.
Co working Spaces
If you want to work in a shared workplace, then coworking spaces could be your best choice. Basically, this place is used by digital nomads, startup founders, and freelancers. The bonus point of selecting this place is getting links with other business owners, openness in the workstations, accessibilities, and also sustainability. Coworking spaces are usually packed with a group of successful entrepreneurs. When you select this place as your business address, you can get access to build valuable networks, support systems, and learning opportunities.
Commercial Office
And last but not least, the commercial office workstations. These offices are basically set up inside the professional office buildings, retail plazas, free-standing buildings, and shopping malls. So, you can either rent commercial property or purchase a property, depending on your financial capability and strategic needs. The commercial office offers the startup owners a real physical space, which eventually helps them to house employees and service, walk-in customers.
How can the Pobox zone help?
PO BOX Zone is a company in the USA that offers the virtual business address in Nevada and Wyoming. Our plan starts from $99 a year to about $250 a year. If you are a person who would get just a few mails, the $99 plan would be perfect for you. So, if you are thinking of getting a virtual address plus mail forwarding services in Nevada and Wyoming, then we have got your back covered. Don't worry about the package prices. If you are a company that gets an unlimited number of mails, then the $250 plan is the right choice. Isn't the price highly affordable?
With years of experience from Incparadise, we can provide you the best mail forwarding experience ever! Contact PO BOX Zone for more details!
You may also like